About SSF Auto Parts Platform
The SSF Auto Parts Platform is comprehensive software that makes sales and management easier for all involved. With this platform, accessing the extensive SSF parts catalog is easy for customers, and managing orders and customer service is easy for businesses.

SSF Auto Parts Demo
Customer Experience: The Frontend
The frontend of SSF Auto Parts Platform is all about user experience, allowing customers to search SSF's extensive parts catalog by a year/make/model search, or by a part number search.
Users may add parts to their cart and checkout using either Authorize.net or PayPal. Once the order has been submitted a user will receive a confirmation email and will subsequently receiving tracking information for their order once that information has been generated.
Use SSFDemo.com for a sample of the search functionality. Please note that full functionality (shopping cart, check page, etc.) is not available on the demo site as we do not want customers purchasing parts on the site.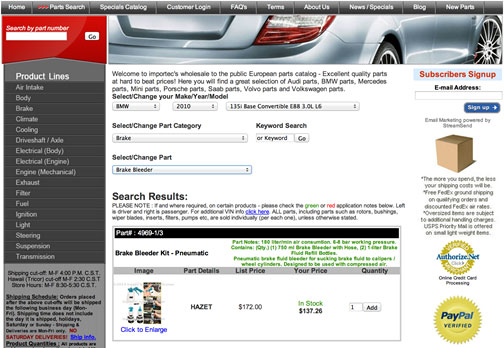 Administrative Suite: The Backend
The Administrative suite is designed to allow site administrators to perform a variety of functions. Some of these functions include:
Manage Customers
View Orders
Release Orders
View Reporting
Modify Part Pricing
Manage Shipping
Modify Shipping Pricing
Modify General Settings
These tools help administrators understand what their customers want.
1. View and manage customer activity.
The customer management tool is vital to understanding what customers are purchasing. This section of the application tracks this information and displays it for at-a-glance comprehension.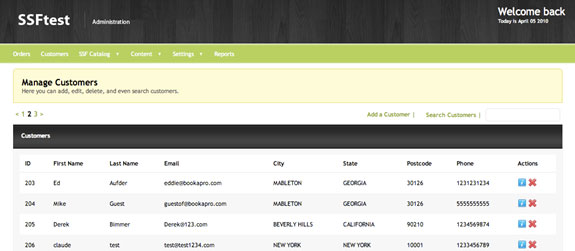 2. View past orders.
With the administrator panel, administrators have the ability to view past customer order history, including the cars that customers have searched for.
3. Easily edit customer information.
Customer information is easy to update quickly and easily via the customer edit tool. Administrators can make changes as necessary with a few simple clicks instead of an arduous process. They can also add notes to customer records easily for future reference.
4. Export customer information.
Administrators can export information as needed, which helps when mounting an effective marketing campaign. By exporting the database according to what is needed, administrators can effectively convert past customers into repeat customers.
5. Easily manage current orders.
The order management system is optimized for ease of use, while increasing the functionality available. Administrators have, at their fingertips, order management tools that help increase their bottom line. They can modify and add notes to orders as needed.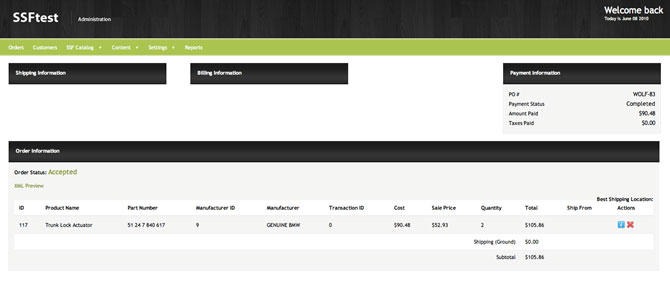 6. Modify existing orders.
Part of managing existing orders is the ability to modify those orders. This feature ranks high on those associated with customer service, and with this application, administrators are able to modify orders before releasing them to SSF.
7. Customer order creation.
Not all customers are willing or confident enough to create a complex or large order. The application allows administrators to create an order for a customer, preventing lost sales and ensuring that no customer will slip away and that you provide a level of customer service accessible to all.
8. Accurate shipping calculations.
Administrators can use the application to calculate shipping from multiple warehouses. This calculation is modified by a list of shipping bands that allow pricing based on both type and cost.
9. Full access to the SSF catalog.
Just as customers do, administrators have full access to the live SSF catalog just as it is shown to the customer on the frontend of the site. All of the products available by SSF can be accessed through either a part number search, or through a series of car and category selections.
Some of the data administrators can access include part details (cost, warehouse quantities, etc.) and order details (shipping information, shipment tracking, and warehouse allocation).
10. Ability to make exceptions.
Not only can an administrator make notes on SSF parts, but they can choose not to show entire products or product lines. This allows administrators to customize a site to only performance or affordable parts specific to their needs.
11. Robust content management system.
This application provides customization for content, giving administrators a great deal of control over the look and feel of the site. The content of static pages can be edited and managed, as well as the creation of invoices. Email confirmation settings are also accessed in the content management system.
12. Breakout modules for content.
The application can load unique pieces of content, such as banners or footers, from the content management system. Simple changes are available to administrators with very little effort.
13. Adjustable settings.
Administrators can adjust various settings on their dashboard to set and adjust content, including SEO keywords and meta-tags. They can also create additional administrators, set taxes, and control discounts. Through the settings panel, the entire ecommerce site is adjusted and controlled.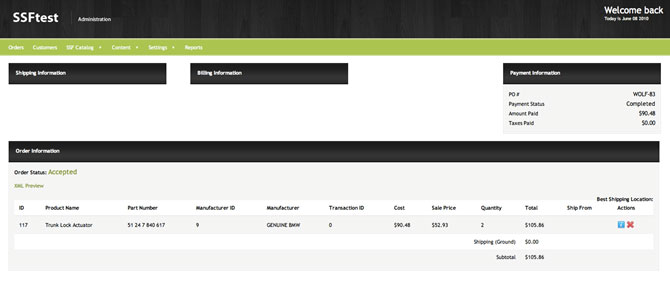 14. Administrator privileges.
With administrative privileges, it is possible to create additional users with lower security levels to have access to the backend of the application. This is a must-have feature for a company with multiple team members who help customers. Administrators can know control of the site is removed from lower-privilege users, while those same users can still use the application successfully as they work with customers.
15. Error logging of transactions.
Error Logging tracks a customer from the time they come to the home page continuing on throughout the entire shopping process. This provides a view of the shopping process and helps identify where problems might develop.
16. Sales and tax reporting.
Administrators can run reports that break down monthly sales totals. They can also include sales tax totals and other sales tax information each month.
SSF Auto Parts Platform