We help you sell. Lots.
With eCommerce, we know what to do. We develop a platform from the ground up, and can migrate your current data into a new infrastructure. Our experience and knowledge means one thing: your great business, now more efficient. And that means more revenue for you.
We are a leader in eCommerce development and custom supply chain API integration. Our knowledge and industry experience means we create a product that results in better efficiency for your business. That means an increased revenue for you, through online marketing and channel generation.

Usability: Make it easy for your customers.
The usability of your website makes all the difference when it comes to achieving the highest possible purchasing rate from potential customers.
If customers find your eCommerce site hard to use, they leave and go elsewhere. But when you start to take usability seriously, you begin to see an increase in sales and more return customers.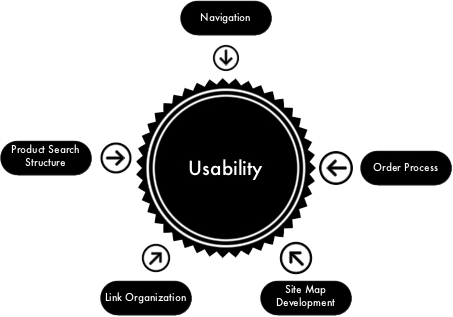 To make this happen, we develop web sites for our customers that are easy to navigate, find products, and place an order successfully.
It doesn't matter if your site is about eCommerce, information, or a custom cloud-based app for your internal employees. Today's website customers are on the go, and they need to find what they want faster than ever before. This is why we start by creating a usability plan for your site. Creating a site that is user-friendly is the foundation for any further design and development. It isn't enough to simply get the information online. It must be easy for people to find, or they won't bother looking.
When your website is easy to use, your customers benefit. And that means that your business also benefits.
Platform Development: Build on what's available.
You need to be able to update the content on your site.
There are many eCommerce platforms that allow your company to work from a base platform and manage the content of your site without any coding knowledge. We are experienced in working with Magento, but we also have the capability to find a solution that best fits your business.
By choosing platforms like Magento, which comes with plugins and add-ons that extend functionality, your website remains flexible for any future growth and change in your business.
Even better, using a platform with plugins and modules means that instead of paying for custom development, you can purchase a plugin inexpensively and pay for implementation rather than the pricier customer development cost.
Custom Development: Build for you specifically.
Custom website development is what we do best.
Cookie-cutter websites try to solve a broad base of problems, leaving you to hack together a solution for the specific needs of your business. Custom development puts and end to that.
We have a long history of developing custom website integrations to fit specific client needs. Perhaps you need custom order processing, custom inventory management, custom reporting or accounting functions, or even custom re-seller management (e.g. eBay, Amazon)? These are all possible, connecting into an existing platform using API Integration.
We start with a stable platform, and build from there. We will write custom plugins for applications as needed, from simple checkout modifications to in-depth drop-shipping integration.
Your problems are unique, and so should be your solutions. We build 100% custom to you.
eCommerce